Experience Ryokan Genetique Cat Boarding Hotel in 3D Virtual Reality!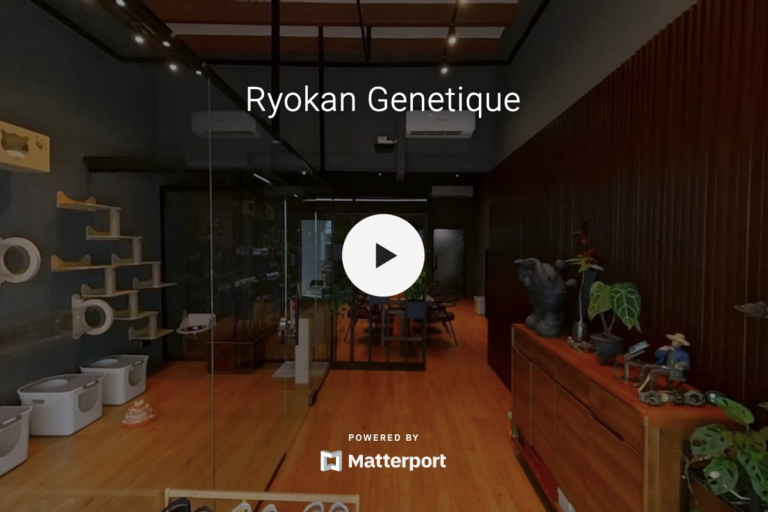 Introduction: In a world where our feline friends hold a special place in our hearts, providing them with the utmost care and comfort is essential. Introducing Ryokan Genetique Cat Boarding Hotel, a haven for cats that combines luxury, relaxation, and cutting-edge technology.
Now, thanks to the incredible capabilities of Matterport, you can embark on an immersive 3D virtual tour of this extraordinary establishment. Get ready to step into a world of feline indulgence like never before!
At Ryokan Genetique, we understand the importance of transparency and ensuring pet owners have complete peace of mind when it comes to the wellbeing of their furry companions. That's why we have partnered with Matterport, a leading provider of 3D virtual tour technology, to offer an unparalleled glimpse into our cat boarding hotel. With just a few clicks, you can enter a virtual world that replicates the real-life experience of being at Ryokan Genetique.
Exquisite Suites for Ultimate Comfort: Our 3D virtual tour allows you to explore the four remarkable suite options available at Ryokan Genetique. Each suite is meticulously designed to provide the perfect blend of relaxation, privacy, and stimulation for our feline guests. From the cozy and intimate Sakura Suite to the spacious and lavish Zenith Suite, every detail has been thoughtfully considered to cater to the diverse needs and preferences of our discerning guests.
Immerse Yourself in the Ryokan Genetique Experience: As you embark on the 3D virtual tour, prepare to be captivated by the enchanting ambiance of Ryokan Genetique. Marvel at the intricate traditional Japanese-inspired decor, the serene Zen gardens, and the soothing sounds that envelop you. With Matterport's advanced technology, you can navigate through the hotel effortlessly, seamlessly moving from one area to another, just as if you were physically present.
Unravel the Array of Amenities: The 3D virtual tour enables you to explore the extensive range of amenities and services available at Ryokan Genetique. Peek into the tranquil communal lounges, where cats can socialize and play under the watchful eye of our attentive staff. 
Book Your Cat's Luxurious Retreat: After immersing yourself in the 3D virtual tour of Ryokan Genetique Cat Boarding Hotel, you'll undoubtedly be eager to provide your furry friend with the experience they deserve. Head to our booking page, where you can easily book a suite and select from our range of optional extras to personalize your cat's stay. With our commitment to quality, comfort, and innovation, your cat will embark on a vacation they'll never forget.
Conclusion: Thanks to the power of Matterport's 3D virtual reality technology, exploring Ryokan Genetique Cat Boarding Hotel has never been easier or more immersive. From the comfort of your own home, you can experience the luxury, tranquility, and impeccable attention to detail that await your beloved feline companion. Don't wait another moment – embark on the virtual journey of a lifetime and let your cat's vacation dreams come true at Ryokan Genetique!
Share and tell your feminine cat friends about Ryokan Genetique