Featured by Pet Lovers Centre
At Ryokan Genetique, we are truly honored to be featured by Pet Lovers Centre. As a leading provider of cat boarding services in Singapore, we take great pride in our commitment to providing exceptional care for our feline friends.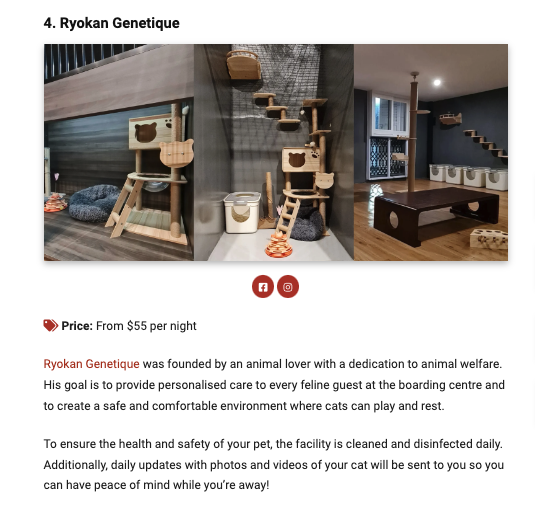 8 Best Cat Boarding Services and Hotels in Singapore for Your Feline Friend in 2023
Being featured by Pet Lovers Centre is a testament to the hard work and dedication of our team. It is a recognition of our efforts to create a safe and comfortable environment for cats while their owners are away.
Our cat boarding services are designed to ensure that cats receive the love, attention, and care they deserve. We understand that leaving your furry friend behind can be a difficult decision, but rest assured that at Ryokan Genetique, your cat will be in good hands.
Our facilities are specially designed to cater to the unique needs of cats. Each cat is provided with a spacious and comfortable living space, complete with toys, scratching posts, and cozy beds. Our trained staff members are experienced in handling cats of all temperaments and will ensure that your cat feels safe and secure throughout their stay.
At Ryokan Genetique, we go above and beyond to provide a stress-free experience for both cats and their owners. We understand that every cat is unique, and we strive to create a customized experience tailored to their individual needs. Whether your cat requires special dietary considerations or medication, our team is well-equipped to handle any special requirements.
But don't just take our word for it. The feature by Pet Lovers Centre speaks volumes about the quality of our services. Pet Lovers Centre is a trusted name in the pet industry, and their endorsement further solidifies our reputation as a reliable and trustworthy cat boarding facility.
We would like to extend our heartfelt gratitude to Pet Lovers Centre for featuring Ryokan Genetique. We are committed to maintaining the highest standards of care for our furry guests and will continue to improve and innovate to provide the best possible experience for cats and their owners.
If you're looking for a cat boarding facility in Singapore, look no further than Ryokan Genetique. We invite you to visit our website for more information about our services and facilities. Book a stay for your cat today and experience the difference of Ryokan Genetique! If you are interested to get a kitten or cat visit Genetique Bengals Today!